POROUS METAL FILTER SERVICES
The Best Metal Filter Media Services
FABRICATING YOUR SINTERED METAL FILTERS
Porous Metal Filters not only offers the best porous metal products, but we also manufacture them and service them here in our full-service sintered metal fabrication shop. From metal shearing and slitting to metal sintering and porous metal welding, our porous metal filtration media company aims to ensure your media filter needs are taken care of. Our highly-trained team offers solutions to your filtration and separation needs for your industry, from oil and gas to wastewater treatment. Contact us today to learn more!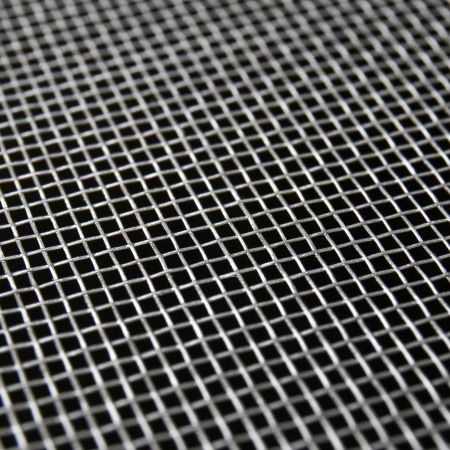 POROUS METAL FILTER SERVICES WE OFFER
Metal shearing & metal slitting
Metal surface finishing
Metal testing
Laser & water jet metal cutting
Metal punching
Metal forming services
Porous metal welding
Porous metal filter assembly
Metal sintering
Services
Porous Metal Filters' SinterPore® laminate can be fabricated, much like sheet metal, in a number of shapes and sizes from simple discs to complex conical assemblies. At Porous Metal Filters, we have a fully functional metal fabrication shop in house with state of the art equipment and an experienced, knowledgeable staff allowing us to service all of your porous media filter needs. Porous Metal Filters manufactures products to the highest current industry standard and we're certified to meet ISO 9001 requriements.
When it comes to media filters, you need the best. After all, your products and services depend upon filtering your media in order to operate efficiently and smoothly. Porous Metal Filters has a dedicated team to fabricating only the best porous sintered metal filters for your business. We are also dedicated to servicing them as well. Below, we'll touch on just a few of our exceptional metal media filter services. Contact us today!
SOME OF OUR SINTERED METAL FILTER SERVICES WE OFFER
Metal Punching
Using a punch press, metal punching involves creating a hole via shearing. A scrap slug is produced, which can be recycled or discarded. When you need precise holes every time in a high quantity, punching is the way to go. We create custom shapes as well as needed.
Metal Forming Services
Metal forming is using metalworking to fashion pieces of metal into the shapes you need. Also known as mechanical deformation, not material is added or subtracted, making it an environmentally-friendly way to fashion metal. Generally, high stresses are needed, and our machinery here at Porous Metal Filters has got your needs covered.
CHOOSE POROUS METAL FILTERS FOR YOUR SINTERED FILTER SERVICES TODAY
Porous Metal Filters has dedicated years to helping industries with their media filter needs. We offer superior products at competitive pricing. From industrial filtration to the oil and gas industry, our stainless steel filters can not only help you with all your filtration needs, but they will stand up to wear and tear overtime, lasting longer and saving you money by doing so. Contact our Sintered porous filter company today!
Sintering:
Laminating capability of 1 to 1500 layers. Standard sheets sizes are 18"x48", 20"x48", & 24"x48". Maximum panel size with no weld is 40"x48". Maximum width is 120" with welds, and the lengths are unlimited.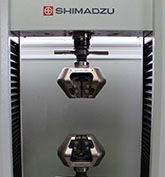 Testing:
At Porous Metal Filters, we have a full range of testing capabilities including tensile, strauss, alloy, permeability, and more.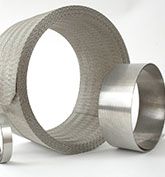 Shearing/Slitting:
Available up to 500' in length and up to 60" wide +/- 0.020"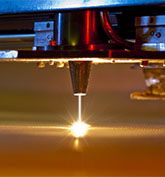 Laser And Water Jet Cutting:
The material can be cut like metal plate to make small runs in a multitude of possible shapes (both 2D and 3D conical structures)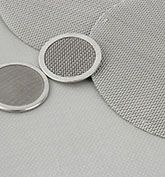 Punching:
Extensive range of punching capabilities, with a large inventory of dyes in many shapes and sizes. Custom shapes and sizes available upon request.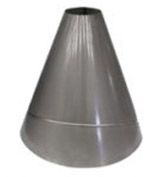 Forming:
Capability to form pleated elements, cones, and simple cylinders with diameters ranging from .375" to 20", and lengths available up to 48" in a single tube. Longer lengths are available with additional weld joints.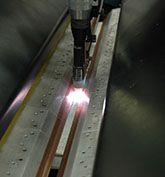 Welding:
Like metal plates, porous metal filter materials can be welded with resistance, TIG, plasma, and electron-beam welders.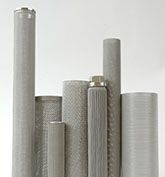 Assembling:
The fittings, end caps, and cages must be seamlessly assembled to the metal filter without any pinholes or gaps between the media filter and the other fittings that would compromise the filtration integrity. All parts are welded together to ensure permanent bonds that will not be compromised by chemical attack, thermal, or pressure cycling. Production lot tests, like bubble point or airflow, will ensure that the filter is properly constructed.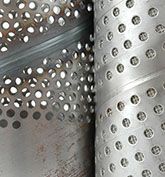 Surface Finishing:
Removes iron from the surface and enhances the chromium/nickel content providing the most superior form of passivation for stainless steel. This process provides a clean and smooth surface that is easier to sterilize. It also improves the surface finish by leveling micro-peaks and valleys.