POROUS METAL FILTERS FOR BULK POWDER HANDLING
Achieve Powder Fluidization in Even the Most Adverse Conditions.
POROUS METAL FILTERS' SINTERPORE® HI-PERM AND LO-PERM MEDIA ARE IDEAL CHOICES FOR FLUIDIZING MATERIALS.
Various types of porous metal filters have been utilized for the fluidization of bulk powders, each type has its own strengths and weaknesses and all of them can be successful under various operating parameters. But, sintered wire cloth laminates are by far the most successful of the porous metallic fluidizing media. These materials can successfully fluidize powders under the most difficult operating conditions such as elevated temperatures and corrosive environments.
Fluidization of fine bulk solids is an effective way to handle solids in a contact bed manner where air or gas can be used for powder aeration either in a fully fluidized state (liquid-like properties) or only in a localized fashion with small amounts of gas flow. Powder fluidization is common with pulverized fuel handling, drying operations, and chemical reaction processes. The features and benefits of fluidizing powders are endless. From elimination or reduction of arching (bridging) of powders in hoppers to increased discharge rates from hoppers, silos to increased gas-solids interaction for drying and agglomerating.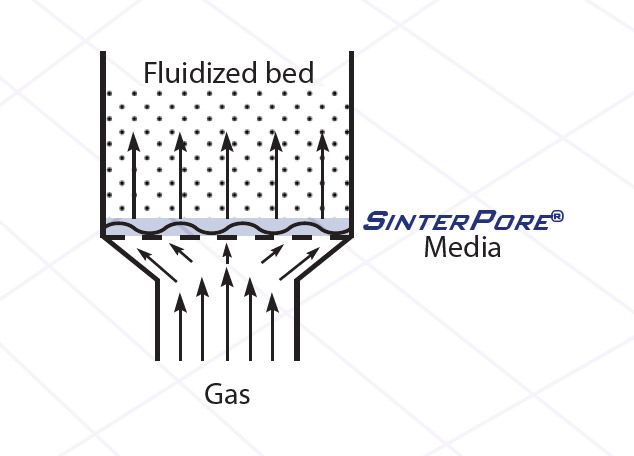 Additional Benefits You'll See by Using Porous Metal Filters for Bulk Powder Fluidization:
Cleanability
Heat Resistance
Abrasion Resistance
Uniform Flow

(available from 5 to 400 SCFM/sf @ 1" H²O)

316L stainless steel construction

(other alloys available upon request)
Contact us today to order your porous metal filters for your bulk powder handling operation!
SinterPore® fluidizing media is easily fabricated into many different shapes, from simple discs and flat sheets to fluidizing elements and complex conical assemblies.
Typical Uses:
Fluidizing Beds
Hoppers
Air Slides
Spargers
Flame Arrestors
Air Bearings
Typical Materials Fluidized
Cement
Fly Ash
Soda Ash
Flour
Fertilizers