INDUSTRIAL METALLIC FILTER CARTRIDGES
Porous Metal Filters offer a wide range of cleanable stainless steel filter cartridges, in many different markets and applications. Our cartridges fit in most commercial housings, or we can design and manufacture a cartridge to meet custom applications.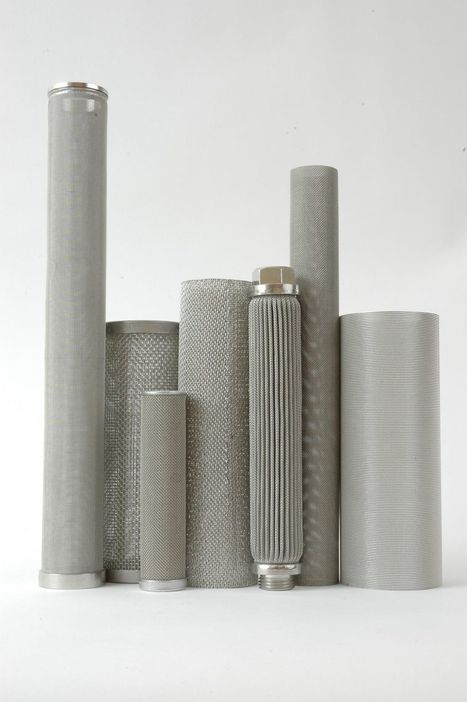 Media Design:
316L Stainless Steel
Pleated.
SinterPore® sintered fiber/mesh laminate.
Multi layer sintered mesh and fiber metal felt pleated to increase filtration. The fiber metal felt offers depth filtration, while the mesh offers support and rigidity. Fiber/mesh promotes finer filtration, increased dirt holding, and improved permeability.
SinterPore® sintered mesh laminate.
Multi layer sintered mesh pleated to increase filter area and filtration life. These elements are easily cleaned and back flushable.
SinterPore® Sintered Laminate Tube Filter
Multi layer sintered mesh media that formed and welded into a cylinder. SinterPore® filter elements are back flushable, rigid, surface filtration, and endures many cleaning cycles.
PMF Cartridges:
Standard Sizes:
2.375" diameter in lengths of 10, 20, 30, and 40 inches
Fittings:
Double open end
222 double O-rings
226 double O-rings with locking tabs
1" NPT
Custom fittings
Gasket Material:
Viton
Buna
Other material available upon request
Quality:
PMF manufactures products to the highest current industry standard, certified to meet ISO 9001
The PMF Screen Code Is Illustrated Below

PFC
316L Media Type
PFC Sintered Fiber Media, Cylinder
PFP Sintered Fiber Media, Pleated
PWC Wire Mesh Cylinder
PWP Wire Mesh, Pleated
PLS Sintered Laminate, Cylinder
PLP Sintered Laminate, Pleated
5
Micron Rating
5, 4, 0, 1, 0, 0, 1, 0, 6, 0, 1, 5, 0, 2, 0, 7, 0, 3, 0, 8, 0
S
Fitting Metallurgy
S - 316L
N - Nitronic 60
10
Cartridge Length
10......10″ – 250mm
20.....20″ – 500mm
30.....30″ – 750mm
40.....40″ – 1000mm
AF
Inlet/Cap Fitting Configuration
A.....Female 1″NPT
B.....Male 1″ NPT
C.....Open Gasket Fitting
D.....Standard 222 double O-rings
E.....Standard 226 double O-rings
F.....blind end
B
Elastomasters
B.....Buna N
N....Neoprene
V....Viton
E....EPDP
P....PTFE