Sintered Metallic Fiber Felt Laminates
The Sintered Metal Fiber Felt series of metal filtration products provide the ability to achieve high filtration efficiencies from a combination of depth and tortuosity while at the same time providing exceptional dirt holding capacity and flow characteristics.
Filter efficiency is achieved by the precise selection of fiber diameters and basis weight. The medium's matrix is constructed to control the pore diameter throughout its thickness, allowing us to achieve a graded pore structure that captures the desired larger particles on the outer layers while allowing smaller particles to penetrate deeper into the medium matrix.
The result is higher dirt-holding capacity and subsequent longer on-stream life. The media filter can also be configured as a surface metal filter to trap particles on the outer layer if you desire backflush or back pulse regeneration applications.
Metal fiber felt can be bonded together and can also be bonded to woven wire support mesh for added strength and flexibility.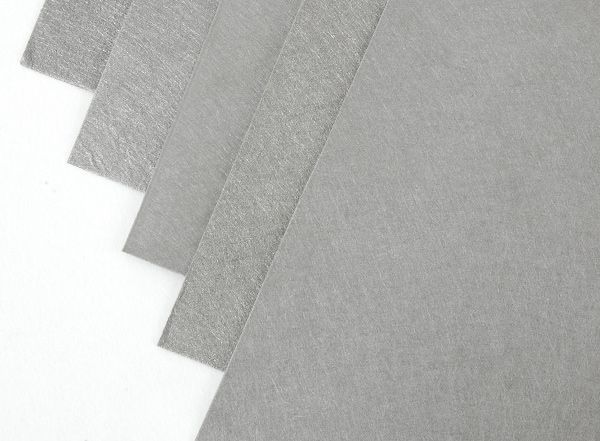 Specifications:
Standard sheet sizes of 48" x 48". Custom sizes available upon request.
Standard Alloys: 304, 304L, 316, 316L, Alloy20 (also available in Inconel 600 and 625, Monel, and Hastalloy upon request).
Applications:
Polymer Filtration
Pharmaceutical
Oil and Gas
Automotive
Food and Beverage
Petrochemical
Waste Water
Features And Benefits:
Heat Resistance
Pleatable and Formable
Media Designation

Filtration Rating

(um)

Porosity %


(+/- 5%)

 Thickness
mm - in

Air Flow
L/min/dm2 @ 200 Pa

Air Flow
cfm/ft2 @ 0.5" W.C.

 Permeability
m2  -  Darcy

Dirt Holding Capacity
mg/cm2(+/-20%)

Bubble Point


(W.C.)

 SMF 3
3
 65
0.351
0.0138
10
2.0
5.4E-13
0.5
6.3
44.5 - 54.4
 SMF 5
 5
 78
 0.338
 0.0133
 35
 7.1
 1.8E-12
 1.8
 5.5
 27.5 - 33.6
 SMF 10
 10
77
0.320
0.0126
100
20.4
4.9E-12
5.0
7.6
13.4 - 16.4
 SMF 15
15
78
0.371
0.0146
130
26.5
7.4E-11
7.5
7.9
9.0 - 10.9
 SMF 20
 20
81
0.490
0.0193
230
46.9
1.7E-11
17.6
12.4
6.7 - 8.2
 SMF 25
25
79
0.610
0.0240
33
67.4
3.1E-11
31.3
19.4
5.4 - 6.6
 SMF 30
30
90
0.630
0.0248
450
91.9
4.3E-11
44.2
23.0
4.5 - 5.5
 SMF 40
40
77
0.660
0.0260
580
118.4
5.9E-11
59.7
25.9
3.4 - 4.1
 SMF 60
 60
87
0.701
0.0276
1100
224.7
1.2E-10
120.2
34.0
2.3 - 2.8
Technical Data Subject to Change