Sintered Wire Cloth Laminates
SinterPore® porous metal filter products can be constructed from one to multiple layers of stainless wire mesh and they are designed for precise, controlled porosity, uniform pore sizes, and distribution. SinterPore® laminates are permanently bonded under precise diffusion bonding (sintering) conditions, yielding robust, monolithic materials used in a wide variety of engineering applications ranging from industrial filtration to aerospace transpiration cooling.
Standard Products And Most Common Uses
Standard 2- and 3-layer SinterPore® fluidizing laminates with customer-specific permeability and flow rates are often used in bulk powder handling.
Standard 5-layer SinterPore® laminates are used in pharmaceutical, polymer, liquid, and gas filtration.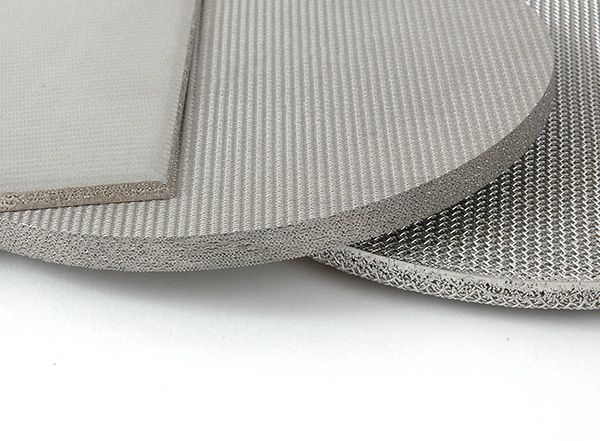 Specifications:
Standard Sheet Sizes: 18"x48", 24"x48". Custom sizes available upon request. Maximum laminate size without welding is 24"x60" (larger sheets available with welds, maximum panel width with welds 120").
Standard Alloys: 304, 304L, 316, 316L, Alloy20 (also available in Inconel 600 and 625, Monel, and Hastalloy upon request)
Applications:
Oil and Gas
Pharmaceutical
Aerospace
Polymer Filtration
Chemical Process
Bulk Powder Handling
Industrial Filtration
Features And Benefits:
Heat and wear resistance
Cleanability and reusability
Robust Non-Compressible Media
Nominal Micron

Filter Mesh

Weave Type

Thickness
+/- .003"

Permeability

L/M² X SEC. (DP= 2 MBAR)
2
325x2300
Twill Dutch Weave
0.0035"
180
5
200x1400
Twill Dutch Weave
0.0055"
220
10
165x1400
Twill Dutch Weave
0.0055"
420
20
165x800
Board Mesh Twill Dutch Weave
0.0063"
1150
25
80x700
Twill Dutch Weave
0.0102"
700
125
24x110
Twill Dutch Weave
0.0034"
630
175
18x210
Twill Dutch Weave
0.0037"
360
280
132x16
Reverse Twill Dutch Weave
0.0046"
705
300
12x64
Twill Dutch Weave
0.0050"
962

Nominal Micron

Filter Mesh

Weave Type

Thickness
+/- .003"

Open Area
%

40
325x325
Plain Square
0.0028"
29%
60
250x250
Plain Square
0.0032"
37%
80
200x200
Plain Square
0.0042"
34%
100
150x150
Plain Square
0.0052"
36%
Technical Data Subject to Change
SinterPore® Fluidizing Laminates
Part Number

Number of Layers

Mean Air Flow(SCFM/SF @ 2" W.C.)

Max Thickness

Lo-Perm
F-PMF-316L-SP-LF-05
3
5
0.064"
F-PMF-316L-SP-LF-10
3
10
0.069"
F-PMF-316L-SP-LF-25
3
25
0.073"
Hi-Perm
F-PMF-316L-SP-HF-100
2
100
0.052"
F-PMF-316L-SP-HF-200
2
200
0.060"
F-PMF-316L-SP-HF-400
2
400
0.072"
Technical Data Subject to Change
SinterPore® Filter Plate Laminates
Nominal Micron

Filter Mesh

Absolute Micron

Thickness
+/- .003"

Permeability

SCFM/PSI
2
325x2300
5
0.066"
185
5
200x1400
10
0.066"
375
10
165x1400
15
0.066"
465
20
165x800
20
0.066"
545
25
80x700
35
0.066"
715
40
325x325
43
0.066"
715
60
250x250
61
0.066"
715
80
200x200
74
0.066"
715
100
150x150
104
0.066"
715
Technical Data Subject to Change